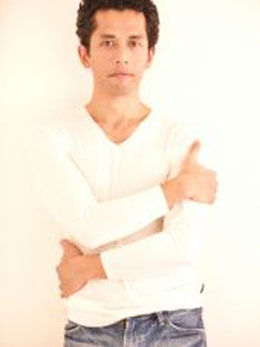 Born in the Dutch Gorinchem, Ivo van Zwieten attended after high school the Rotterdamse Dans Academy. He then went to Munich and studied from 1992 to 1994 at the Ballet Academy (Heinz Bosl Foundation) under the direction of Professor Konstanze Vernon.
His first engagement was at the City Theatre Würzburg, where he danced until 1999 as soloist and danced leading roles in ballets by Hans Wrona and Yurek Makarowski (Drosselmeier in "Nutcracker", 
 Don José in "Carmen," Pierrot in "Pierrot Lunaire" and Joseph in "Joseph Legend" by Richard Strauss.
In Würzburg, he worked in various workshops and productions of drama theatre. So he could present his own choreography at the German premiere of "Top Dogs" by Urs Widmer in 1997.
In 1999, Martin Schläpfer invited him to "Ballet Mainz", where he performed in choreographies by George Balanchine ("Allegro Brillante"), Hans von Manen ("Five Tangos", "In and Out", "Concertante"), Nils Christe ("Before Nightfall", "Purcell Pieces"), Peter Martins ("Fearfull Symmetries"), Nicolo Fonte ("En los segundos ocultos"), Kurt Jooss ("The Green Table"), in the world premiere "Bridget" by Samuel Wuersten, as well as in repertoire pieces ("Divertimento", "Strange Fruit", "The Four Seasons", "Vespers", "Last Sleep") and world premieres ("Appenzellertänze", "Drittes Klavierkonzert", "Vom Winde beweint", "Concerto Grosso", "Kunst der Fuge", "Feuervogel", "Musica ricercata", "Partita No. 6″, "Frogs and Crows", "Violakonzert", "In my day and night" ), choreographed by Martin Schläpfer.
In Mainz he has created his highly successful choreography "Kochana Op. 6"
After the invitation of "Noverre Gesellschaft Stuttgart", he created "6", a piece for six dancers of the Stuttgart Ballet. On April 7th 2007 he presented his piece "Neshika" to the music of the Israeli composer Didi (Adi) Erez, in the program of Mia Arbatova Ballet Gala Evening of Nira Paaz, at The Suzanne Dellal Center Tel Aviv, Israel (recorded by Yakov Levit). Then he got the invitation to stage his piece "6" with the dancers of the Ballet Guatemala in Guatemala City. His choreography "Sardonyx", a solo for a dancer to the music of Johannes Brahms' first piano concerto (Adagio), he choreographed for "The Edinburgh International Festival Fringe" in 2007. A collaboration with the Academy of Music Hanns Eisler Berlin followed, where he worked with the students of Prof. D. Kuhn, professor of clarinet and created a piece called "Miniatures" (zwei Wälzer) – music by Dmitri Shostakovich.
Susana B. Williams of the "Dance Productions" invited him in 2008 to stage "Sardonyx" with the National Theater of Montenegro. There followed an invitation from the National Ballet of Slovenia Ljubljana, where he shared the "Double Bill" Evening with Hans van Manen. He created the piece "Rhapsody" to the music of Sergey Rachmaninov's "Rhapsody on a Theme of Paganini". Together with Eiko Hayashi, a Kabuki dancer, he created in 2009 the choreography "Genji Monogatari", which combined the neo-classical ballet with the Kabuki dance. "Genji Monogatari's" world premiere was held at the Japanese embassy in Berlin. In 2010 he created "Two solo Adagio for a dancer," "Samenkomst" a choreography to Chopin's Larghetto from Piano Concerto No.2 and a piece "Love" with the music of Frédéric Chopin's Larghetto from Piano Concerto no. 1.
Besides creating his choreographies, Ivo van Zwieten works worldwide as guest ballet master too.